Stroll through European streets once and you'll wish you were pedaling like the locals. Europe takes the lead in the race to a more sustainable future, especially when it comes to transportation. Some of the world's most sustainable cities are also dubbed top bike cities in the world. Visitors can easily contribute to a greener environment with various ride-sharing and bike rental options, so even if you accidentally left your bike behind, you can still be eco-friendly and travel on two wheels.
On your bikes, get set, go! After spinning around Amsterdam, the bike capital of the world, take the ride of your life through these five cities in Europe. Plus, it's cheaper than renting a car.
1. Berlin, Germany
It comes as no surprise that history lovers insist on exploring German land. The complicated history of Berlin provides a captivating visit and time passes quickly because of it. Bike tours in each of the 12 districts will lead the way to every beer garden or era of world history you're interested in. They'll get you to each landmark as fast as possible, so time at the Berlin Wall, East Side Gallery, castles and so much more can last longer. If you're traveling with a group that's more interested in soaking up the sun outdoors, take a bike tour to Lake Tegel and the Muggelsee available.
2. Barcelona, Spain
Travel to Spain to run with bulls or play it safe by biking in Barcelona. Design and art lovers will see how devoted this city is to maintaining its architectural prestige, whether that's highlighted by a bike tour in the Gothic Quarter, along the Mediterranean Sea or surrounding neighborhoods. Iconic "superblocks" transform streets into pedestrian-first environments so there's no doubt about safety. Bike towards the city center and find Montjuic for panoramic views of the city that'll have blocks reflecting tiles on sidewalks from below. With over 125 miles of bike lanes built within the last decade and ride-sharing framing the sidewalks, it's like Catalan's metropolis was designed for cyclists.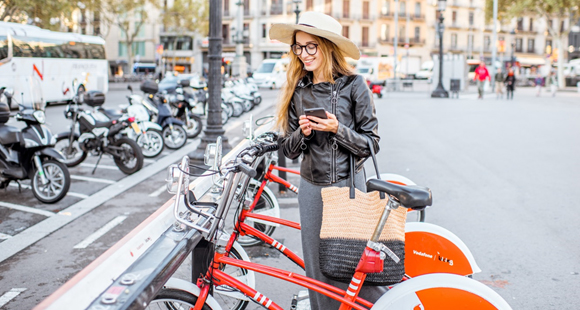 3. Bordeaux, France
Discover a different style of Tour de France in a crescent-shaped city amidst vineyards and the Atlantic coast. In vibrant and illustrious Bordeaux, wine and nature lovers unite and toast to what this city of over 100,000 vineyards now is: home to a charming village, city center and a must-see waterfront. Within the 400 miles of bicycle paths available in the region's wine capital is Saint Emilion, a major wine—producing area and UNESCO world heritage site. The architecture, gardens and monuments truly set this vineyard apart from others and the city itself. Cycling through the vineyards and "chateaux," aka castles, leads to a wine tasting unparalleled to any before.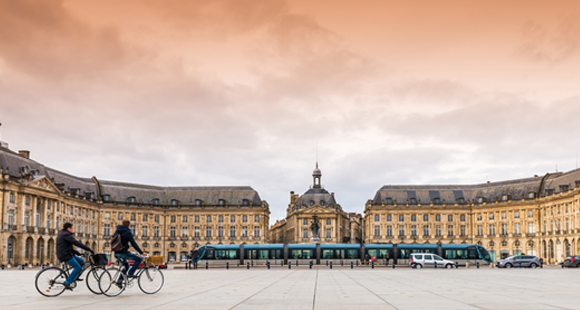 4. Copenhagen, Denmark
Planning for a bike culture back home? There's a term for that called "copenhagenization." Dubbed the first official Bike City in the world, Copenhagen is a biker's bliss. The famous "Cykelslangen," which translates to "Bicycle Snake" in Danish, is an elevated cycling path acting as a cyclist's highway. It hovers over the harbor and transports riders into the colorful city. During rush hour, traffic lights are coordinated based on the speed of bicycles since there are more bicycles than Copenhageners. The capital of Denmark was one of the first cities in the world to hand out bikes for free, to citizens and visitors. In fact, most hotels provide bicycles for guests.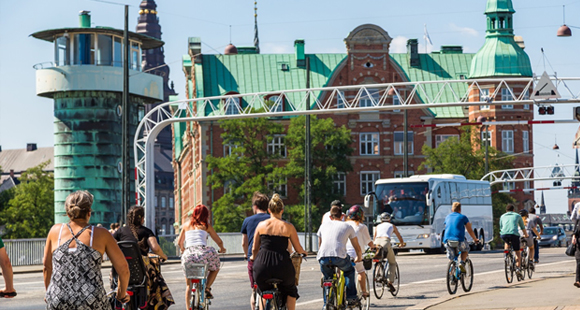 5. Prague, Czech Republic
If you're trying to find the ultimate up-and-coming cycling scene, pedal to Prague. There are better ways to cycle through this capital city, since cycling is forbidden in historical hot spots like the Charles Bridge and city center. Combine bicycling with the rich brewing history and suddenly, pedaling through prohibited places is allowed with Beer Bike Prague Tours. There's a specific route the guide will lead you on, while music and LED party lights  It's Prague's longest-running Beer Bike tour for 15 tourists – 10 are the cyclists – to pedal while sipping from a keg of Pilsens prior to parking at local pubs and restaurants.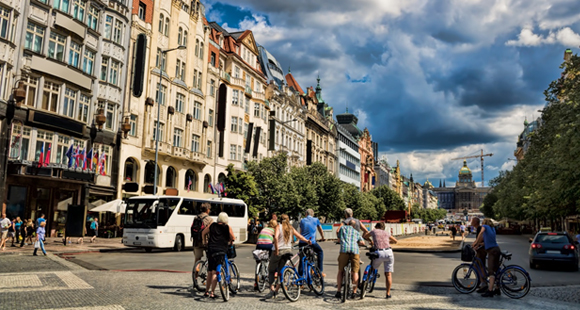 Have you had "wheely" good fun in a city that wasn't listed above? Tell us about it in the comments below.