With travelers actively seeking out authentic, immersive experiences, big hotel names in the regions are offering exactly that and celebrating the rich culinary traditions of Mexico. Here are seven you cannot miss.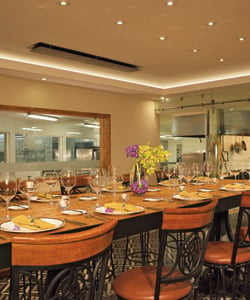 Tamarindo at Secrets Vallarta Bay –
The menu at Tamarindo hits all the high notes of Mexican cuisine. Fresh tortillas set the stage for classic Mexican dishes like cochinita pibil. Where Tamarindo really shines is with ceviche, when chefs create a fresh ceviche tableside for diners to watch. Every night in the lobby of Secrets Vallarta Bay, you can stop for a mezcal martini, made-to-order and made to delight.
Careyes from Oasis Hotels & Resorts
–
Found at The Pyramid at Grand Cancun, Grand Sens Cancun and Grand Oasis Palm, Careyes was voted the #4 best restaurant in Mexico in TripAdvisor's Travelers' Choice Awards. Diners are treated to a gourmet Mexican experience infused with French gastronomy that takes authentic Mexican flavors to new heights.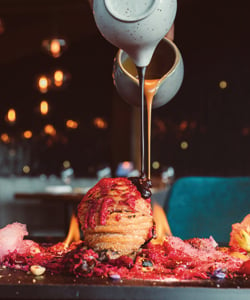 Frida at Grand Velas Los Cabos
–
Inspired by Frida Kahlo, the painter who passionately celebrated her Mexican culture, Frida the restaurant explores the fascinating culinary traditions of Mexico with dishes featuring Cotija cheese, papalo (a Mexican herb) and guajillo chilies.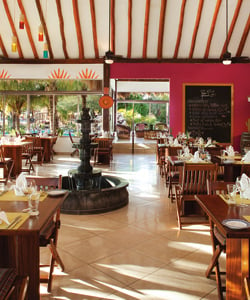 Rincon Mexicano at El Dorado Casitas Royale –
With Mexican street food for lunch and an authentic Mexican menu at dinner, Rincon Mexicano and its open, airy garden views really deliver the spirit of Mexico. Fresh ingredients sourced locally or grown in the resort's 76,000-square-foot greenhouse (which provides the resort's restaurants with 14 tons of vegetables per month) will make you feel even more connected to country.
Mole at Paradisus by Melia
–
All four of the Paradisus resorts in Mexico (in Cancun, Los Cabos and Playa del Carmen) are home to a Mole restaurant, which by the name itself feels undoubtedly inspired by Mexico. Fusing traditional Mexican cuisine (think quesadillas and guacamole) with a luxury vibe set the stage for what Melia claims will be the "best Mexican culinary experience ever."
Ha at Hotel Xcaret –
Carlos Gaytan, the executive chef of Ha, is the first Mexican chef to receive a Michelin Star. His menu at Ha brings his roots in traditional Mexican cuisine together with modern gastronomy in an elaborate seven-course, seasonal tasting menu. Diners consult with a mixologist for a personalized cocktail experience and each of the seven courses is paired with a Mexican wine.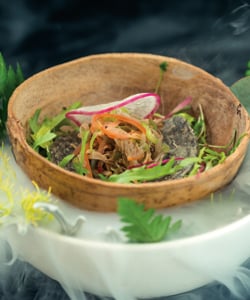 La Joya at Grand Fiesta Americana Cancun Coral Beach –
Hibiscus flower tostadas, epazote chochoyotas (corn dough dumplings), many different moles and a tequila bar bring the spirit of Mexico to this award-winning resort. For an extra special experience, diners can book dinner at The Table, a custom-built, 16-person communal table and embark on a journey of the country's mesmerizing past, guided by narration, video and music and creating an immersive, multi-sensory culinary adventure.